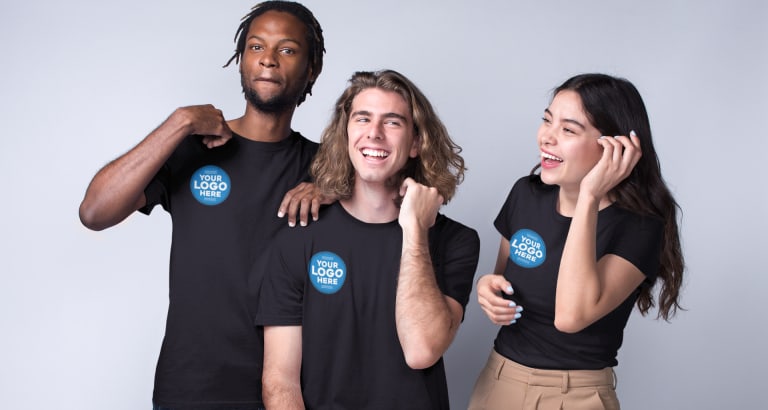 5 Easy Steps to Create a Logo for Your Small Business
A beginners guide to logo design
Creating a logo for your small business is an important step in establishing your brand. It's an image that will be used to represent your business and should reflect the values and mission of your company.
TeamShirts can help you with the hard work of creating and printing branded products. But don't worry, it's not rocket science...unless your business happens to be a rocket company! Here is a simple process for coming up with a logo: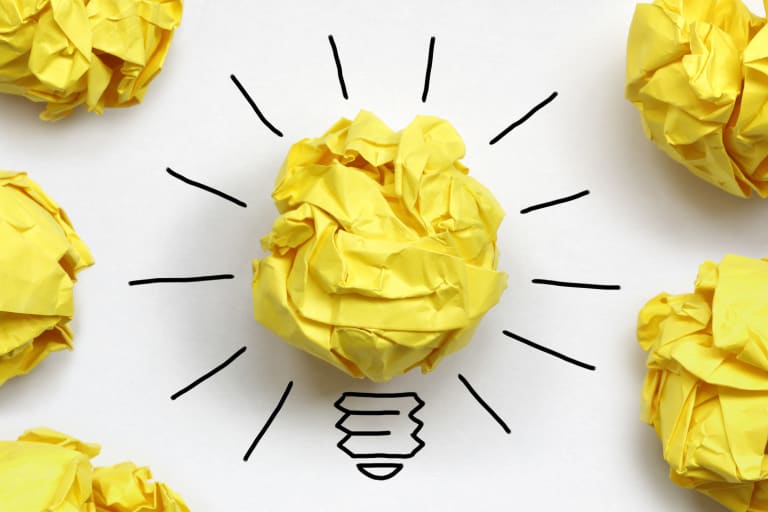 1. Brainstorm
The first step is to come up with ideas that represent what your business is all about. Think of themes, colors, and shapes that capture the essence of your company. For example, if you're a yoga studio, you might brainstorm ideas like lotus flowers, green and blue colors, and a peaceful-looking font. Then, you can start putting these ideas together into a logo. Think of ways to combine the themes, colors, and shapes that you brainstormed. Make sure the logo is simple and memorable, so customers can easily recognize it.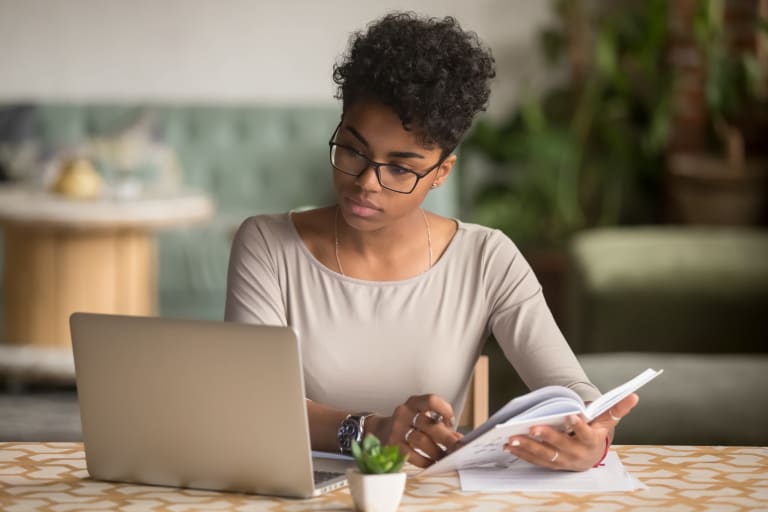 2. Research
Look at other logos and designs that have been used in your industry. Or browse TeamShirt's gallery of 1000s of designs and fonts. This will help you narrow down your options while still creating something unique.
Once you've identified a design that inspires you, it's time to customize it to make it your own. Add your company's name, slogan, or any other elements that will help make it stand out. Finally, make sure to double-check that the design looks good in different sizes and formats.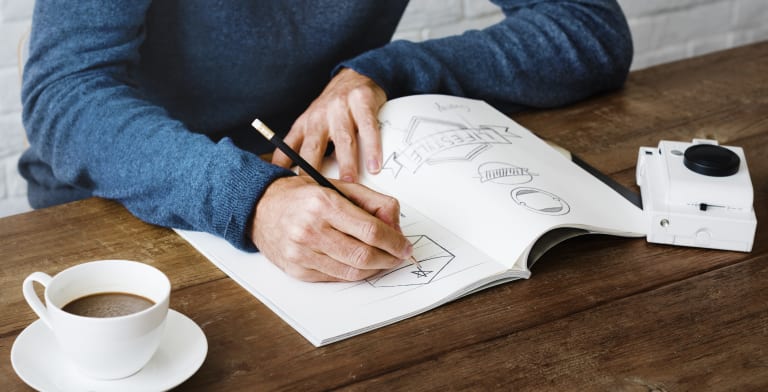 3. Sketch
Draw out a few of your ideas. Try different variations to see which ones you like best. If you aren't artistic, you might need professional help. You can use online resources such as tutorials or templates to learn the basics. You can also hire a professional illustrator or graphic designer to help you create something that captures your vision.
TeamShirts offers free professional graphic design services for orders of 5 or more items. If you have any special wishes or ideas, we'll create them for you.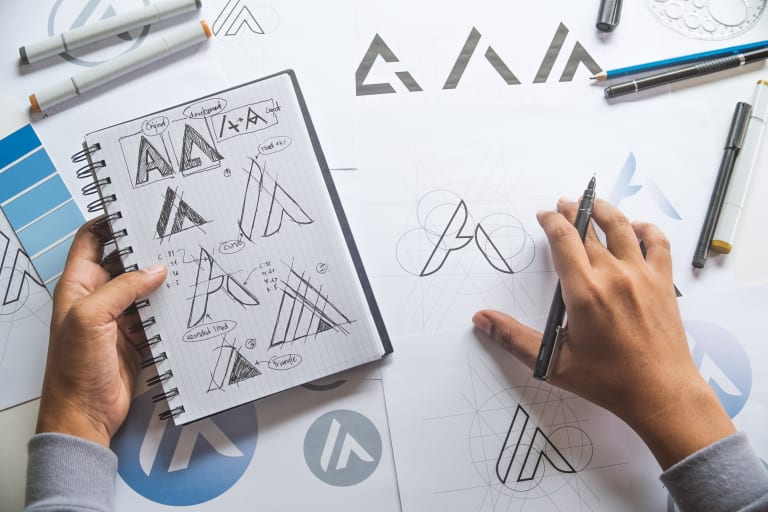 4. Refine
Select the design you like best and refine the details. After all, you don't want to be stuck with a design you hate just because you didn't take the time to make it perfect. Try different color schemes and fonts until you're happy with the look.
Upload your logo design to TeamShirts' easy-to-use design wizard, and choose a product. This will help you visualize your logo's appearance on your desired products. And if you're unhappy with the look, you can always start over and try something new!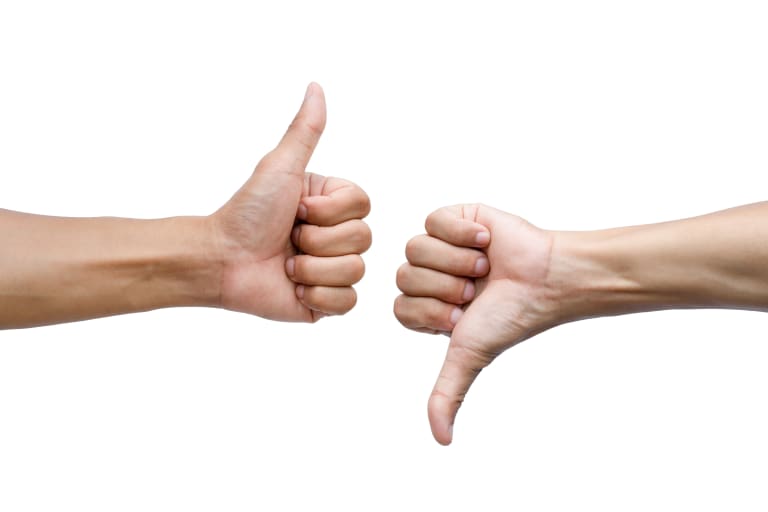 5. Test
Show your logo to your colleagues and people you trust to get their feedback. Use our handy "Poll" feature before checking out to let your team vote on the logo they like best.
This will help you make sure you've created something that resonates with your target audience. And if the feedback isn't great, just remind them that it's all part of the creative process!
Once you've created a logo you're proud of, you can use it on custom apparel, and promotional materials. With TeamShirts you can create custom logo t-shirts, hoodies, and more in a variety of colors, sizes, and fits. This will help you establish brand recognition and create an identity for your business. You can also use the logo on your website, social media accounts and other digital marketing materials.
After all, nothing says success like having your logo plastered all over your clothes! Your logo will become a key part of your brand and help you to stand out from your competitors.

Excellent service and perfect…
Excellent service and perfect execution. The design tools available on the site worked perfectly for our needs. The products were delivered a day before we expected, and the quality is top notch. I would order from TeamShirts again.
Mel S

Quick and efficient and the team was…
Quick and efficient and the team was really helpful to get my logo just right on the shirts. The one issue was the colors were off for the different shirts we got, but they still look good.
Michael Hanks

Team shirt
Loved being able to design a customized football team shirt with my sons name and number on it! It arrived perfectly, fits perfectly, looks awesome and I'm so excited to wear it to his football games!
Ash

Intuitive quality
The website was very intuitive, and the responses to my questions by email were fast and respectful, and the shirts are far and above more quality than I expected.
Thomas C

Shirts were amazing
Shirts were amazing, arrived earlier than expected. Material of shirt was great.
Ana Alfaro
Excellent

4.5/5 based on 914 reviews