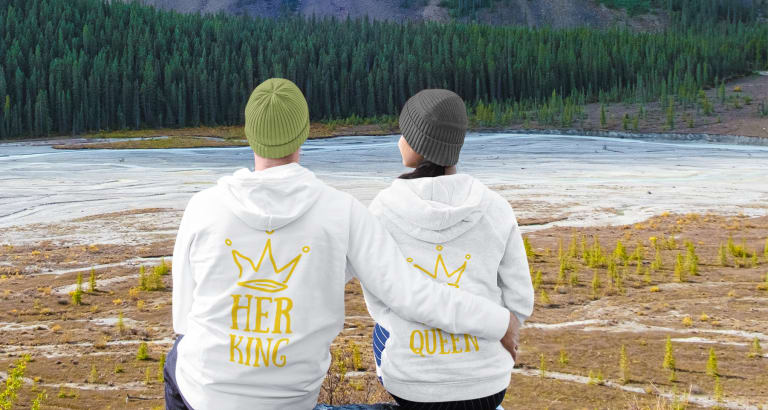 Comfortably loved
Custom Matching Hoodies for Couples
Maybe you have an anniversary coming up. Maybe it's your partner's birthday. Maybe you want to memorialize a special memory or give them something to stay warm before your ski trip together. Regardless of your reason, you can't go wrong with giving a custom hoodie to that special someone in your life.
That said, it can be pretty difficult to get your exact vision onto the front — or back, or side, or sleeve, or even the hood — of a hoodie. Not without it costing an arm or a leg, anyway. But don't worry. That's why TeamShirts is here.
We have all the tools and resources you'll need to make sure you give your partner exactly what you had in mind and something they're going to love for years. Our design tool is super easy to use, and our convenient ordering process ensures you're going to get your hoodies on time and for a great price.
Ready to get started? Learn more below!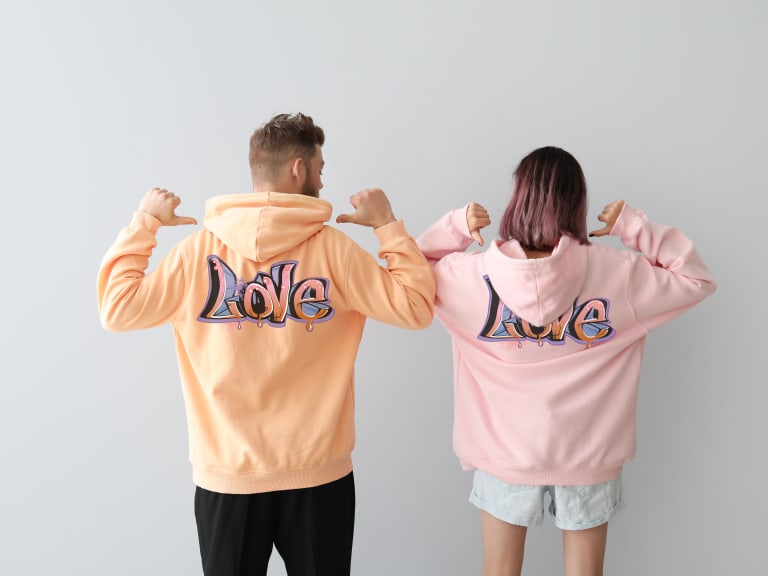 Celebrate Your Love with Matching Hoodies
Love isn't always champagne on balconies and exotic vacations. Sometimes love is simple, quiet, and comfortable. Sometimes love feels like fireworks, but far more often, love feels like throwing on a comfortable, broken-in hooded sweatshirt and watching movies on the couch all day.
If you want to embody that type of love, you want your partner to put on a hoodie that reminds them of you. There are tons of ways to do this, but, of course, the more personal you can be, the better. Instead of opting for the traditional "his and hers," think about something meaningful for your relationship. Do you have nicknames for each other? Maybe there's a favorite vacation spot where you like to go. Maybe it's even an embarrassing inside joke that will have him cracking up the second he opens the packaging — no matter how you decide to do it, your partner is going to love their custom-printed hoodie from TeamShirts.
While you're thinking about what you want to put on your couple's hoodies, though, let's talk a little bit about the design process.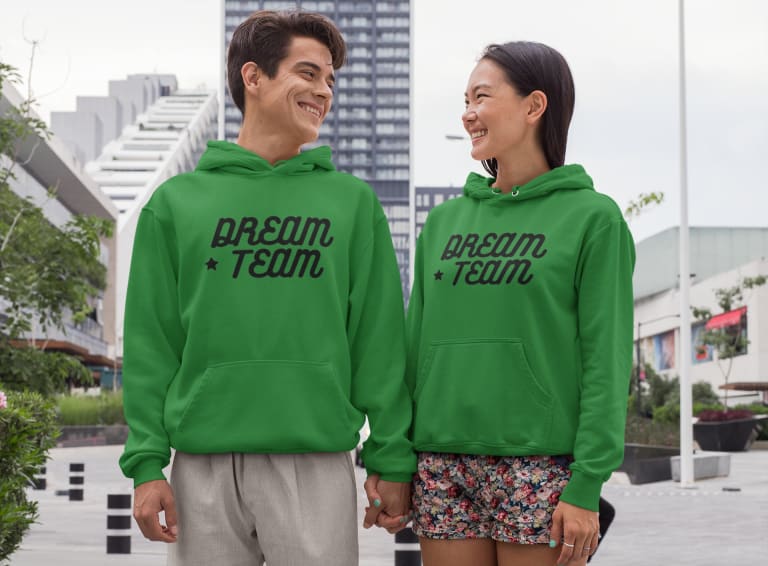 Design Unique Custom Hoodies
When you design with TeamShirts, you're only limited by your imagination. If you can picture it in your head, it can definitely go onto one of our high-quality hooded sweatshirts and into the hands of your partner!
It all starts with our powerful design tool. We have a library of over 36,000 graphics to choose from, and each one is fully customizable in terms of size, shape, color, and placement. You can also select from our Names and Numbers templates for a sporty look or make it entirely unique by uploading your own image or design.
If you really want to step things up, you can select our embroidery option to use colored thread to etch out your text or design on your hoodie. This is the best option for ensuring longevity — you'll both be enjoying your hoodies for years to come.
But your design isn't the only option to select from…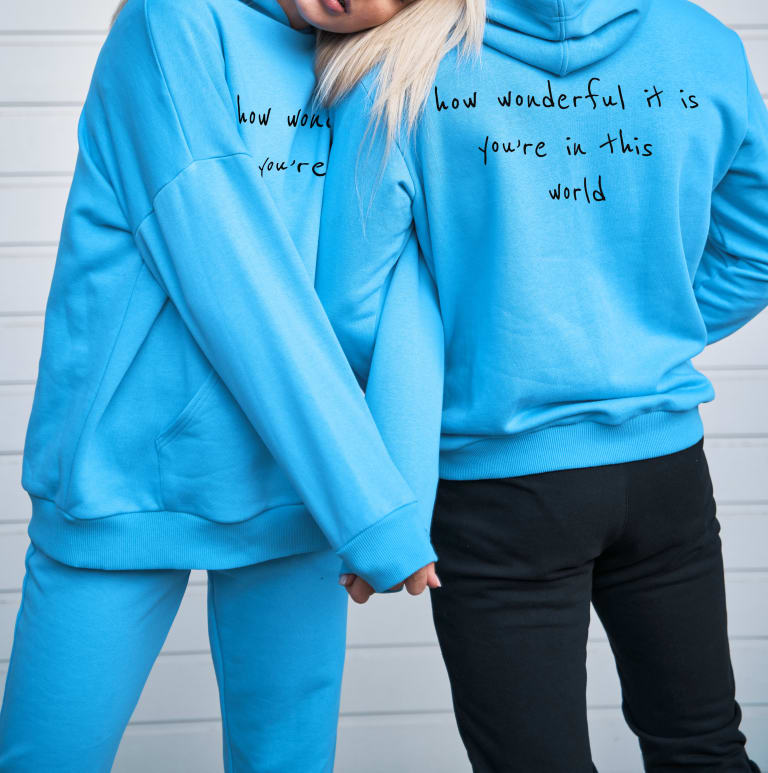 Multiple Sizing and Product Options
We have hundreds of hoodies and sweatshirt options to choose from from a variety of well-known brands, including Gildan, Champion, and even Adidas. Each one of those styles comes in multiple color options, too, from your classic athletic gray to fluorescent pink and everything in between. No matter your particular preference, we're sure to have it in stock.
Our hoodies are also inclusive of almost every body type. From XS to 5XL, you're sure to find a hoodie that will make you and your partner look and feel great. Zip-ups, pull-overs, shaw-collar, kangaroo pockets? We've got 'em all!
Something else we should mention here — we understand that you might not look great in your boyfriend's hoodie, or vice versa. Don't worry, though – we have both men's, women's, and unisex styles that you can put your custom design on. If he needs a men's XL and you need a women's small, we've got you covered. Your design will be printed exactly the same on both!
Now that your wheels are turning a little let's talk quickly about how you want to care for your custom-printed hoodies from TeamShirts.
Taking Care of Your Custom-Printed Hoodie
Since our hoodies come from a variety of manufacturers, you're going to want to make sure you read the care instructions on the label and follow them closely. Generally speaking, though, you're going to want to wash your hoodie on cold with like colors and — if possible — hang it or lay it flat to dry. If you want to run it through the dryer, though, we'd recommend putting on the low setting. Even though we use the highest standards in our printing processes, garment ink is prone to crack when exposed to higher heat — unless you're going for that broken-in look, of course.
Overall, you're going to want to care for your hoodie in the same way you would any of your other athletic clothes. Don't worry about the print coming off or fading. Our hoodies are made to last the test of time — just like your relationship.
So do you have it yet? Know what you're going to put on your custom hoodies? No? That's okay. We've got some ideas for you to really get the creative juices flowing.
Ideas for Selecting Your Custom Couples Hoodie Design
Like we said above, the more personal you can make your hoodies, the more your partner will enjoy them. Here are a few ideas to get you going.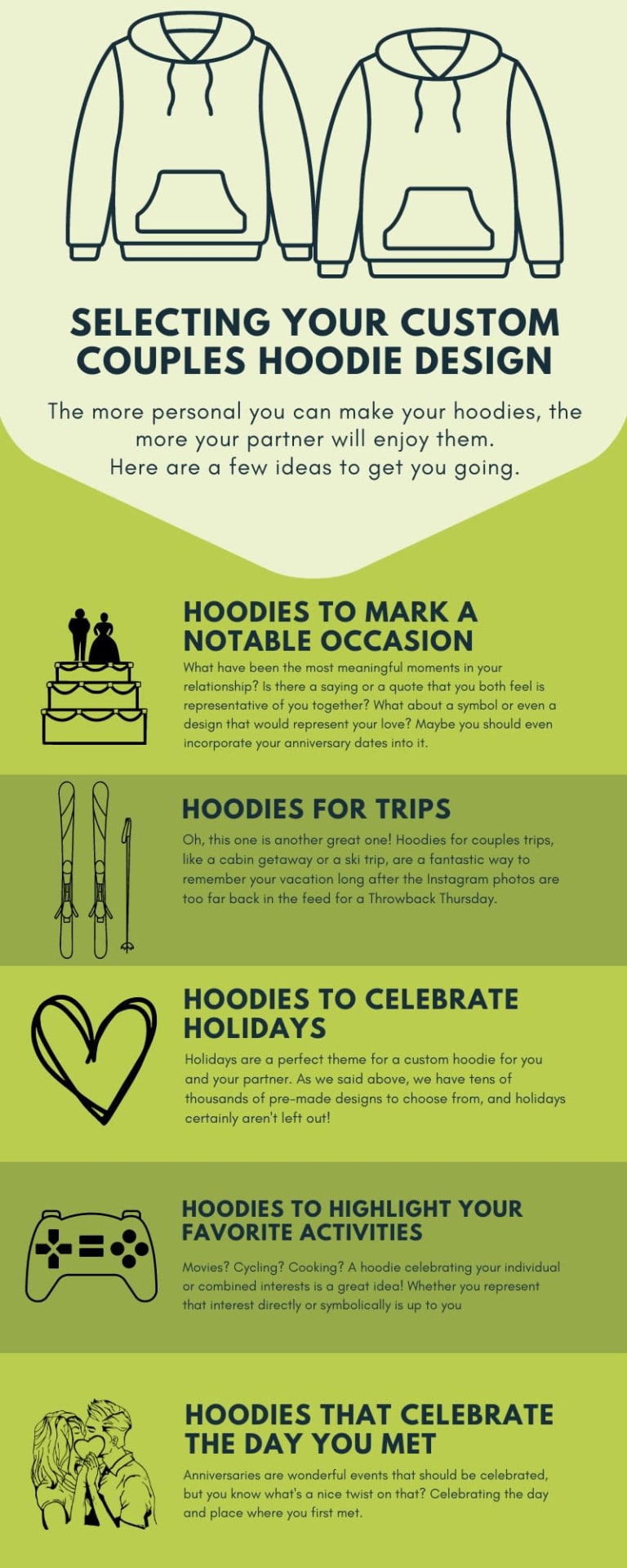 Hoodies to Mark a Notable Occasion
One of our favorite ways our customers use our service is to mark a special occasion in their lives. From birthdays to family reunions, from graduations to bachelorette parties, custom apparel is a great way to commemorate an event.
So ask yourself, what have been the most meaningful moments in your relationship? Is there a saying or a quote that you both feel is representative of you together? What about a symbol or even a design that would represent your love? Maybe you should even incorporate your anniversary dates into it. Don't overthink it, but make sure you give it some thought.
Hoodies for Trips
Oh, this one is another great one! Hoodies for couples trips are a fantastic way to remember your vacation long after the Instagram photos are too far back in the feed for a Throwback Thursday.
We shouldn't have to state the obvious, but we will anyway for some of the blockhead boyfriends out there — don't get your partner a hoodie for your beach trip. This gift is more appropriate for a cabin getaway or a ski weekend.
Hoodies to Celebrate Holidays
Having trouble coming up with a Chanukah gift? Maybe Valentine's Day is giving you a bit of a problem. Maybe you both take Flag Day really seriously — hey, you do you. Regardless, holidays are a perfect theme for a custom hoodie for you and your partner. As we said above, we have tens of thousands of pre-made designs to choose from, and holidays certainly aren't left out!
Hoodies to Highlight Your Favorite Activities
Husband a big movie buff? Girlfriend big into cycling? Are you both into making your own yogurt or something equally as off-the-wall? Whatever it is they like or you like doing together, a hoodie celebrating your individual or combined interests is a great idea! Whether you represent that interest directly or symbolically is up to you, but now we're thinking… how would you show you're both yogurt artisans…
Hoodies that Celebrate the Day You Met
Anniversaries are wonderful events that should be celebrated, but you know what's a nice twist on that? Celebrating the day and place where you first met. Maybe it was at a bar or a restaurant. Maybe it was a chance occasion in a park? Maybe you want to put an iPhone on the front and write "Tinder, 2014." We won't judge. As long as it comes from a heartfelt place, they're going to know that you remember that most important day. The day their life changed. The day they met you.
Hoodies to Make Them Laugh
Storytime, folks. One of our team members used to leave a potato at his then-girlfriend now-wife's apartment whenever he'd go visit her. Sometimes in her bed, sometimes in her shower. Once in her backpack, which she found too late for it to be funny. We know, don't ask.
Anyway, matching brown hoodies with potatoes with their initials carved into them on the front was the perfect birthday gift one year. It represented an inside joke that had them both with tears of laughter rolling down their cheeks and remembering a formative memory of their early relationship.
If you have similar inside jokes with your partner, consider how you might put that on your matching hoodies. Trust us, the surprise is worth it!
Hopefully, that kick-started your creative spark, and you're ready to get designing. If so, perfect! Here's some information on how to get started.
Use TeamShirts to Design Your Matching Hoodies!
There are tons of reasons why you should use TeamShirts to print custom hoodies for you and your partner. We have a huge variety of styles to choose from and nearly endless design options and combinations. We've got sized for every body type, and while a lot of our competitors only allow printing on the back of hoodies, we can do it anywhere! Front, sleeve, hood, or any combination. If you can dream it, you can do it with TeamShirts.
And when it comes to pricing, we strive to be your most affordable option. We offer free standard shipping with every order, and if you need it in a rush, you can pay a little extra to have your custom-designed apparel in your hands within three working days. Not totally satisfied? We offer free returns within 30 days — even if you just ordered the wrong size. We have nearly 15 years of experience in this industry, so you know you're in good hands.
Ready to get started? Great! You can head on over to our design wizard and start creating! If you still have some questions, you can reach out to our friendly and helpful customer service team through our online help form or give us a call at 1-833-395-0347. We look forward to seeing what we can help you make!

Excellent service and perfect…
Excellent service and perfect execution. The design tools available on the site worked perfectly for our needs. The products were delivered a day before we expected, and the quality is top notch. I would order from TeamShirts again.
Mel S

Quick and efficient and the team was…
Quick and efficient and the team was really helpful to get my logo just right on the shirts. The one issue was the colors were off for the different shirts we got, but they still look good.
Michael Hanks

Team shirt
Loved being able to design a customized football team shirt with my sons name and number on it! It arrived perfectly, fits perfectly, looks awesome and I'm so excited to wear it to his football games!
Ash

Intuitive quality
The website was very intuitive, and the responses to my questions by email were fast and respectful, and the shirts are far and above more quality than I expected.
Thomas C

Shirts were amazing
Shirts were amazing, arrived earlier than expected. Material of shirt was great.
Ana Alfaro
Excellent

4.5/5 based on 914 reviews