Create Polos with Your Own Logos, Photos & Designs
Custom polo shirts are the ideal way to showcase your brand or team in a clean, professional way. Add some style while staying comfortable with one of our polo shirts made from breathable fabrics, offered in a variety of colors and sizes.
Upload your own design to create personalized polos for your employees or create your own merchandise for customers. From event staff polo shirts to golf shirts, our custom polo shirts will have your entire team looking sharp. Check out our selection of polo shirts, start designing and receive your custom apparel in no time using free standard shipping.
Design Your own Polo Shirt
Custom polo shirts are the perfect choice to look smart and stay comfortable for business apparel, customer merchandise, employee uniforms, golf, tennis, horseback riding and more.
We're sure you'll be satisfied with your products, so much so that we'll cover the return costs for 30 days if not.
We offer tons of customization areas on your apparel. Make yours stand out by customizing the sleeves, hood, front, or back.
Help yourself to our huge range of designs and templates - feel free to use them yourself or just for inspiration.
CREATE NOW
Team Features for Your Custom Polo Shirts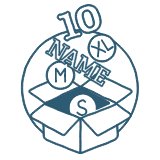 Collect Team Details
Easily gather your teammates' names, numbers and sizes and save their information in your account.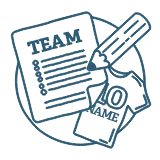 Names and numbers
The days of scribbled notes on paper scraps are over. Just enter all the relevant information in one single team list – no headaches, no confusion.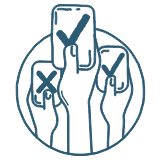 Voting function
Let your teammates decide which design they want. Thanks to the voting function, everybody has a say.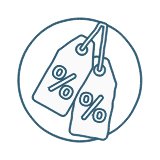 Unique team discounts
Up to 60% discount on any group order: Our amazing discount rate applies to any group order, no matter how many different designs you've ordered or products you've mixed-and-matched.
Design polo shirts for the whole team and recieve up to 60% savings on group orders. The more items purchased, the greater you'll save. Even better, you're not just limited to one item for discounts! Feel free to customize hoodies, tumblers and more to go towards your group discount. Planning a new launch and looking for a way to unite your team? With our custom polo shirts you can highlight your brand using your own logo and boost team spirit with personalized shirts for each member of your team.
If you run into any issues while creating your shirts or have any further questions regarding your custom polo shirts, don't hesitate to contact someone from our customer service team (info@teamshirts.com), fill in the contact form or call us toll free at 1-833-395-0374. We're more than happy to help you with our expertise and knowledge.
FIND PRODUCTS
We just love our new shirts! After winning the Berlin title, we feel like sports fashion champions too!
BBC 90 Köpenick
The service we have had has been brilliant and we love the t-shirts. The design process on the website was easy to use and flexible.
Reach for the Skye - Ride to Isle of Skye for Charity
A heroic "thank you"! The budget for our volunteers´ project is low anyway - thanks to TeamShirts, we were able to print our T-shirts at very reasonable prices, in really high quality. We´re looking forward to coming back next year!
Volunteers´ Center
A big thank you to TeamShirts for working together with us! The pullovers and T-shirts are great, the service was extremely helpful and the goods were shipped quickly. We are very satisfied with the awesome quality and prices. Now everyone at our school can see that we´re paramedics.
School paramedic service Otto-Hahn Secondary School
We've run the first matches and we really like the T-shirts! We're considering expanding our range with the addition of "no-win" tank tops and jackets. Thank you TeamShirts for all your patience and help with the designs and order process.
Team "No Chance" Tennis Club Huizen
We recommend TeamShirts both for price, quality, printing and speed of delivery (right first time) We ordered from TeamShirts 37 shirts to be worn by 17 members of the Broadstairs Club and 20 members of the French Petanque team Le Cochonnet Wattignisien, which were delivered within 10 days.
Broadstairs Petanque Club
We had ordered 100 t-shirts with blue text on the front for our college freshers and about 28 t-shirts with burgundy, and I must tell you how overwhelmingly positive the response has been. In terms of service, I can't express how pleased I have been with this company. The t-shirts arrived extremely quickly without any hassle and the process of ordering was very easy and accessible for myself.
Selwyn College
The shirts were great quality and good value for money. They were perfect for running, and it was easy for everyone to scan the QR code we printed on the back.
Pluspol Interactive GbR
TeamShirts comes highly recommended. Great shirts and great service.
Schoki Krass
Thank you TeamShirts for having supported our wonderful project by proposing great quality t-shirts, helping out with the logo's design and for your highly competitive prices!
SAMU 94
The t-shirts ordered for our employees look really great. Our 300 participants were all very pleased with the final result.
Association for Child and Youth Work
Thank you TeamShirts for your amazing t-shirts. The quality of the t-shirt and print was perfect, the service of your team is outstanding, truly amazing customer service. Would definitely recommend! Thanks again
WilkinsonEyre
TeamShirts was extremely helpful and guided us in each step of the process: they suggested designs, shared feedback, and sent us samples before placing the order!
ReDI School
Here we are! 6 happy dancers in the best hoodies ever! They kept us warm between the preformances and for all of us they have been the number one hoodie to wear for an evening at home or when going to school.
The dancers from the preformance "Life"
Thank you for the TeamShirts team for all the help, the printing quality is amazing and the price was shocking, we are more than happy with the whole order and would definitely come back and recommend to our friends.
KCL vshow 2020
We had a great experience with TeamShirts getting our charity runners decked out for their half marathon. Sophia was very helpful on the phone, and quick to get the order completed and delivered in plenty of time. And the shirts look great!
Arts4dementia
TeamShirts sweatshirts are perfect for our association and everybody loves them. Comfortable, super affordable and fantastic quality.
Canoe Association NRW
My experiences with TeamShirts have been very positive: super nice custom support, quick delivery and very nice, high-quality shirts for a great price!
Neckarsulmer Sports Club
The sweatshirt and t-shirt quality at TeamShirts is unreal for such an unbeatable price. Their sweatshirts are super warm and fuzzy on the inside and aside from some small font details, the print quality was amazing!
University of Mannheim Euromaster Team
TeamShirts offers a fast, simple customer experience. The t-shirts look incredible. Definitely ordering here again!
Non-profit Cafe
We just love our new shirts! After winning the title, we feel like sports fashion champions too!
BBC 90 Kopenick