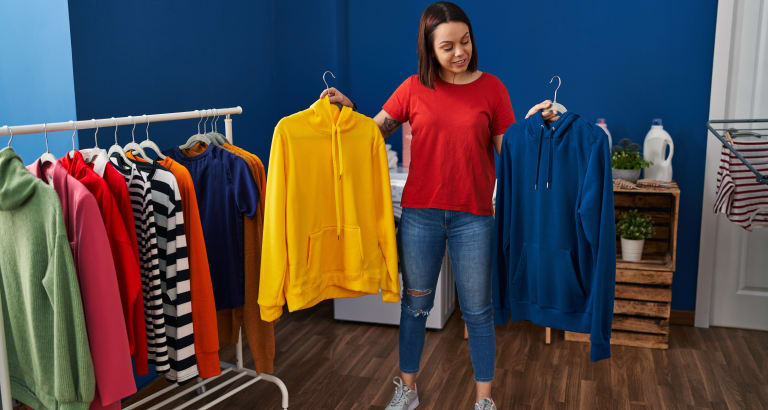 Hoodie Care 101: Unlocking the Secrets to Long-lasting Prints
How to Take Care of Printed Hoodies
So you and your team received your custom printed TeamShirts' hoodies and now it's time to take them off, throw them in the washing machine, and hope that your team logo doesn't wash away with the dirt and grime!
Taking proper care of your printed hoodies is essential to ensure that they maintain their vibrant colors and overall quality. Here are some guidelines for washing, drying and ironing your custom-printed hoodies to help you keep them looking great for a long time: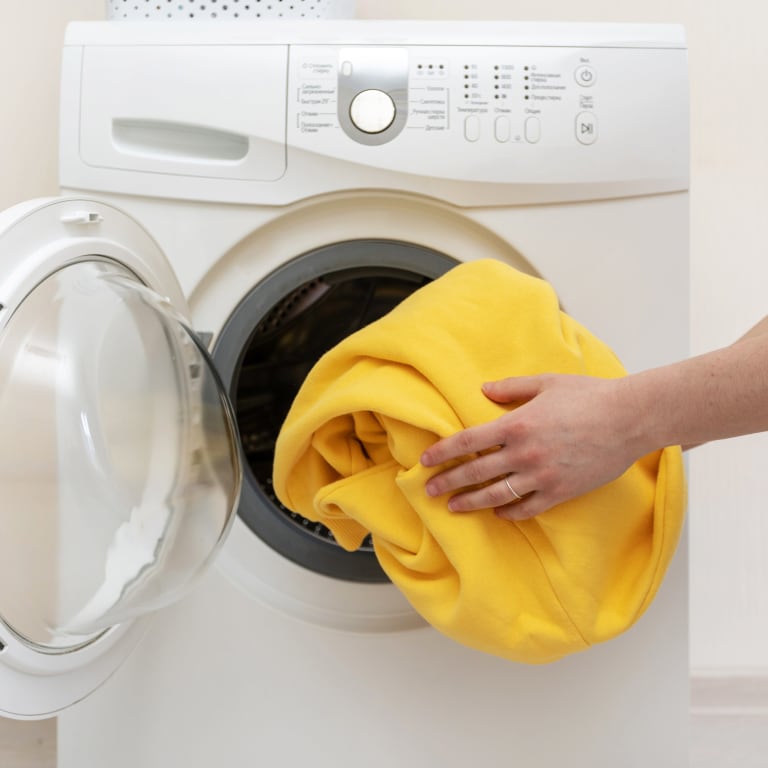 Washing Instructions
Turn the hoodie inside out before washing. If you do this, you will be able to protect the printed design from rubbing against other clothes or against the drum of your washing machine.
Use a gentle cycle with cold water. Hot water can cause the colors to fade or bleed. For example, you can set your washing machine to the "Delicate" cycle and use cold water to ensure that your hoodie stays looking fresh and vibrant.
Avoid using harsh detergents or bleach, as they can damage the print and fabric. Harsh detergents contain chemicals that can break down the fibers of the fabric and cause the dyes to fade, crack or peel while mild detergents are gentler and are less likely to damage the fabric or the print.
If the hoodie is heavily soiled, pre-treat stains with a mild detergent or stain remover before washing. Pre-treating stains with a mild detergent or stain remover will help to ensure that the stains are removed without damaging the print or fabric.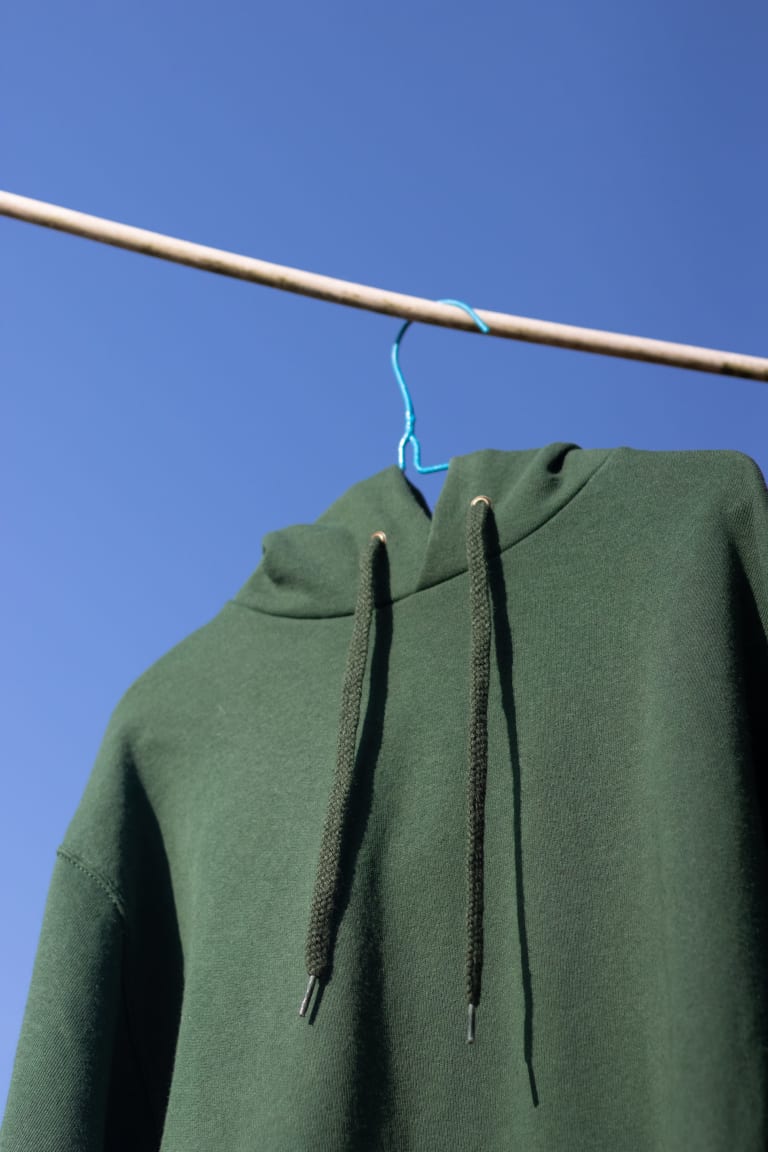 Drying Instructions
Air drying is the best option for printed hoodies. Hang them on a clothesline or lay them flat on a clean surface. Air drying allows the fabric to naturally dry and prevents shrinking or fading that can happen with machine drying. The hoodies will also last longer if you air dry them.
Avoid using a dryer, as the heat can shrink the fabric and damage the print. Heat from the dryer can cause the fibers of the fabric to contract, leading to shrinking. It can also cause the colors of the fabric and the print to fade over time. Air drying is gentler on the fabric and allows it to dry naturally, so it will keep its original shape and colors.
If you must use a dryer, set it to a low heat or delicate cycle and remove the hoodie as soon as it is dry. Also, be sure to turn the hoodie inside out before placing it in the dryer. This will help to ensure that the fabric and colors don't get damaged by the heat.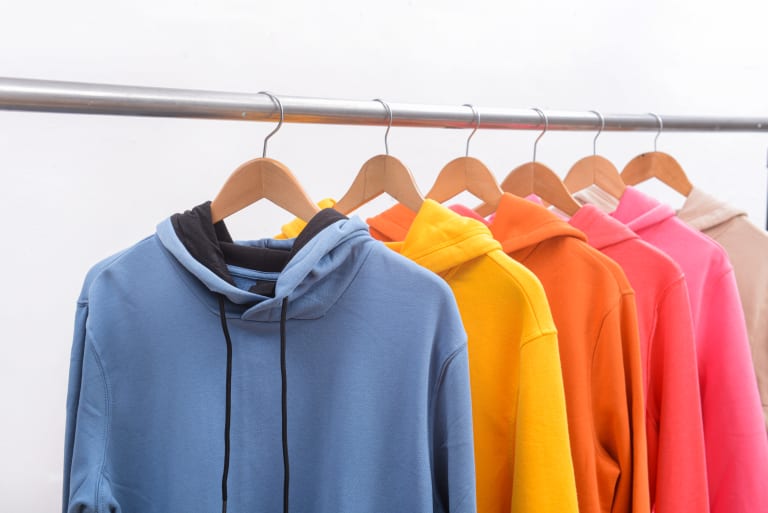 Ironing Guidelines
If necessary, iron the hoodie inside out on a low-heat setting. Avoid ironing directly over the print, as the heat can cause it to melt or fade.-
For best results, use a pressing cloth to prevent any damage to the fabric. - Hang the garment up after ironing to maintain its shape.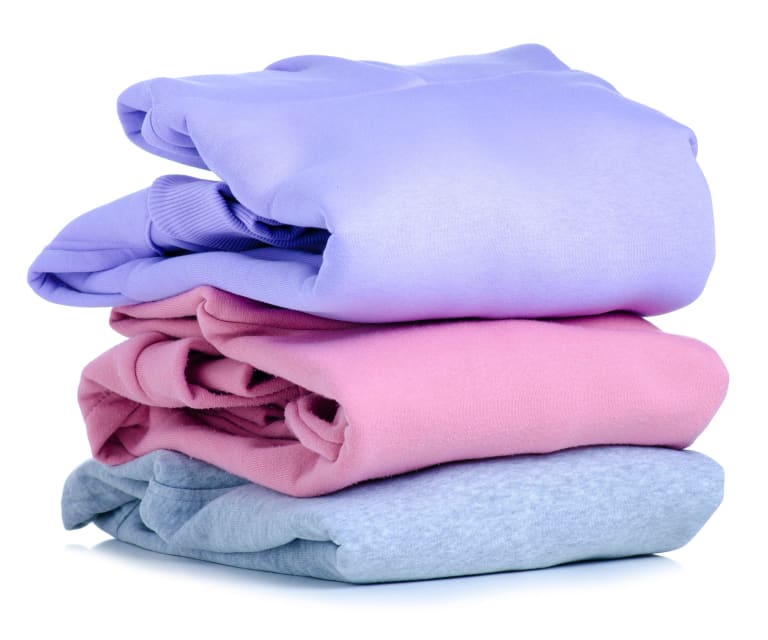 Storage Recommendations
Fold your printed hoodies neatly and store them in a cool, dry place away from direct sunlight. Exposure to sunlight can cause the colors to fade over time. Sunlight contains ultraviolet (UV) radiation, which breaks down the chemical bonds that make up the color dyes in the fabric. As the bonds break down, the fabric loses its color, resulting in fading.
Avoid hanging them for an extended period, as this can stretch the fabric and distort the print.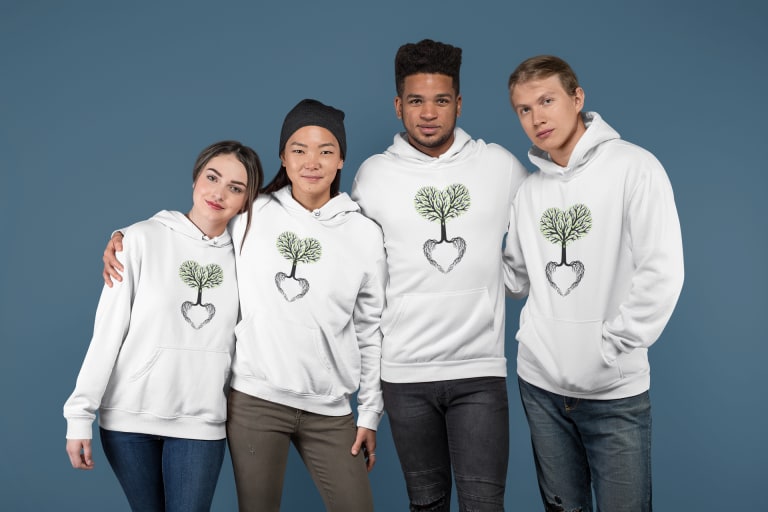 Additional Tips:
Avoid using harsh chemicals or spot treatments directly on the print, as they can cause discoloration or damage.
When possible, wash your printed hoodies separately from other garments to prevent color transfer.
By following these care instructions, you can help extend the lifespan of your printed hoodies and enjoy them for years to come. Remember, proper care is essential to maintain their vibrant appearance and ensure they continue to represent your style.
Need help with your Design?
Whether you are uploading your own design or logo - our customer service can help with any design problems or questions you have.
Need some inspiration? We have over 35,000 designs for you to use, free of charge!
We even offer free professional design help for orders of 6 items or more!

Excellent service and perfect…
Excellent service and perfect execution. The design tools available on the site worked perfectly for our needs. The products were delivered a day before we expected, and the quality is top notch. I would order from TeamShirts again.
Mel S

Quick and efficient and the team was…
Quick and efficient and the team was really helpful to get my logo just right on the shirts. The one issue was the colors were off for the different shirts we got, but they still look good.
Michael Hanks

Team shirt
Loved being able to design a customized football team shirt with my sons name and number on it! It arrived perfectly, fits perfectly, looks awesome and I'm so excited to wear it to his football games!
Ash

Intuitive quality
The website was very intuitive, and the responses to my questions by email were fast and respectful, and the shirts are far and above more quality than I expected.
Thomas C

Shirts were amazing
Shirts were amazing, arrived earlier than expected. Material of shirt was great.
Ana Alfaro
Excellent

4.5/5 based on 914 reviews