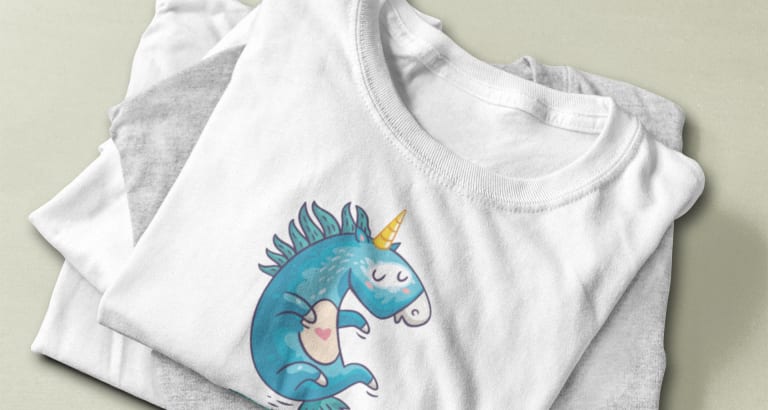 Help! Which Method of T-Shirt Printing is Best?
How to choose the Best Print Type for Custom Printed T-Shirts
Customizing your own T-shirt is a fun and creative way to express your personality or promote your business, club, group or team. Whether you want to create a personalized gift for a loved one, show off your company logo, or design a unique uniform for your sports team, there are several print types available to bring your vision to life.
In this article, we'll explore the three most popular print types for custom printed T-shirts, and how they differ in terms of quality, cost, and suitability for different orders.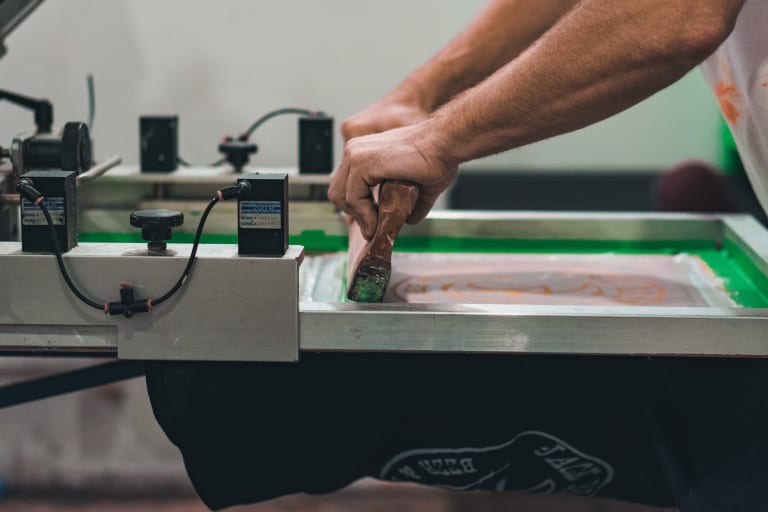 1. Screen Printing
The first and most common print type is screen printing, which is best for large bulk orders of custom T-shirts. Screen printing involves creating a stencil (or "screen") of your design, then pressing ink through the screen onto the T-shirt. This method allows for vibrant and long-lasting prints, even on dark fabrics, and is ideal for simple designs with few colors. Screen printing is also cost-effective for larger orders, as the setup costs can be spread across multiple garments. If you're looking to print custom team shirts for your sports team or company, screen printing is a great option to consider, however the number of colors per print is limited and it will not allow for gradients.
Need help with your Design?
Whether you are uploading your own design or logo - our customer service can help with any design problems or questions you have.
Need some inspiration? We have over 35,000 designs for you to use, free of charge!
We even offer free professional design help for orders of 6 items or more!
2. Digital Direct to Garment Printing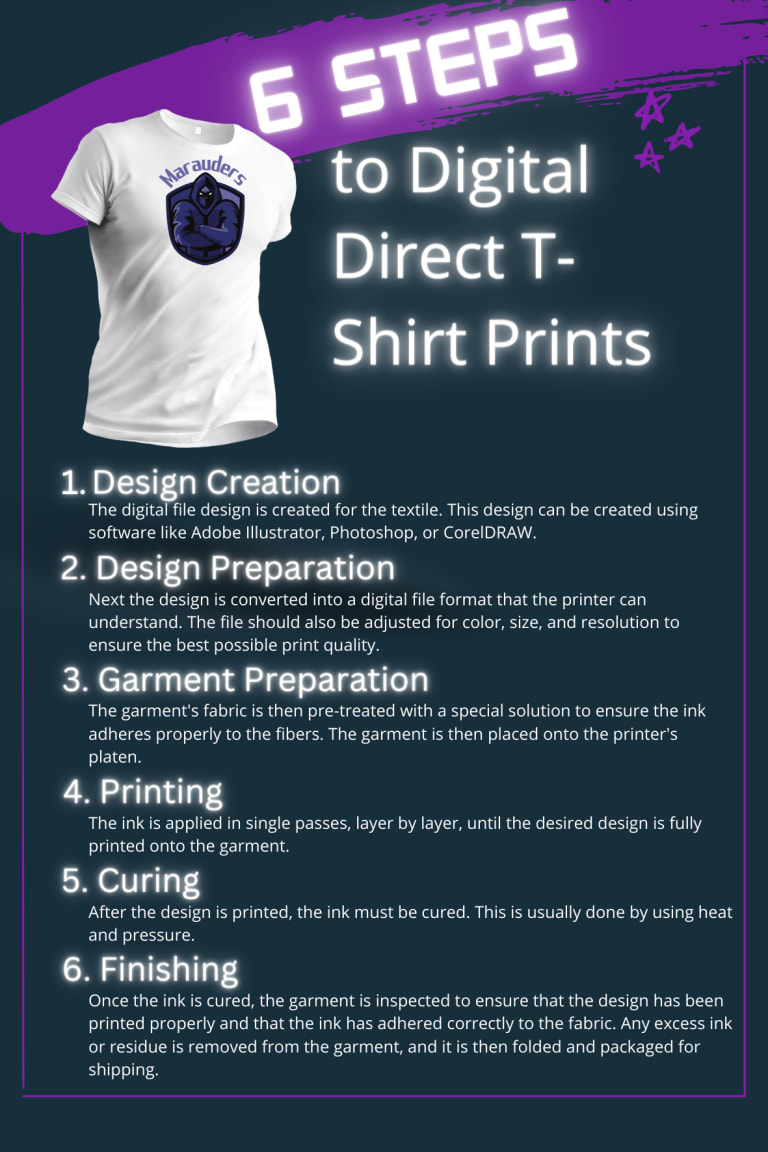 The second print type is digital direct printing, which uses small inkjet nozzles that spray fine particles of ink directly onto the fabric of the T-shirt.
This method is ideal for smaller orders or designs with complex patterns, gradients, or high levels of detail, as it can print virtually any color or image. Digital direct printing also produces soft and flexible prints that feel like part of the fabric, making it a popular choice for customized T-shirts with photos or artwork.
At TeamShirts, we offer digital direct printing for custom printed T-shirts that require a high level of detail or color accuracy and for orders of 5 or less items. The down side to digital direct is that the print can fade faster than screen printing. Because of this, it is best to follow our 5 Golden Rules of T-Shirt care in order to keep your prints vibrant as long as possible!
EARLY BONUS: In addition to print types, TeamShirts also offers embroidery to customize clothing. Embroidery involves sewing the design onto the fabric using threads, creating a textured and durable finish.
This method is particularly popular for customizing hats, jackets, or polo shirts, as it adds a professional and polished look to the garment. If you're looking for a classic and elegant way to customize your T-shirts or polos for your business or golf club, embroidery might be the way to go.
Recent advances in embroidery machines have also made it possible to embroider gradients, which open up a whole new world of embroidered logo design.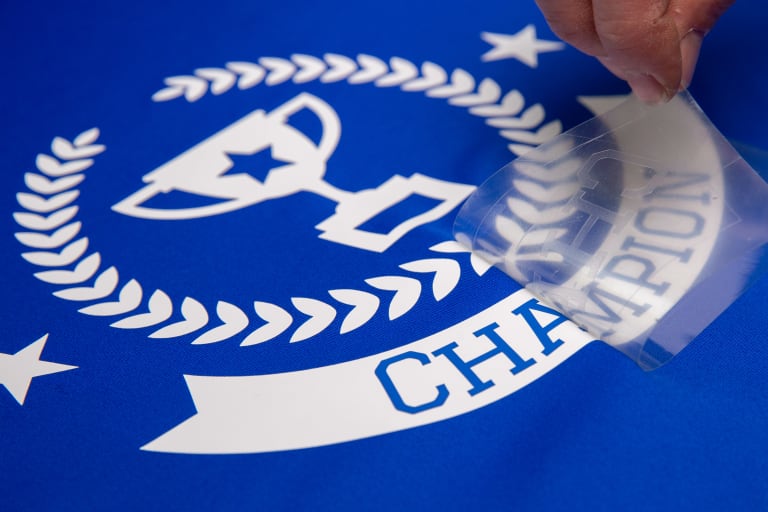 The third print type is flex printing, which uses a vinyl film to transfer the design onto the T-shirt. This method is best for smaller orders or designs that require a low-cost option, as the vinyl film can be cut to size and pressed onto the fabric with heat.
Flex printing is particularly suitable for printing on polyester and spandex fabrics, which can be difficult to print using other methods. Although somewhat limited by the number of colors per print you can use (up to 3 with TeamShirts), flex printing is a great choice for logos. If you're looking for an affordable option for customizing your sportswear T-shirts, flex printing might be a good choice.
When it comes to choosing the right print type for your custom T-shirts, it's important to consider the quantity, design, and fabric of your order. The good news is that TeamShirts will view your design and order and choose the best, most cost efficient option for you. We also offer a huge variety of T-shirt styles and brands to suit your needs, including Under Armour and Adidas for high-quality performance sportswear T-shirts, and Bella and Canva for comfortable and affordable unisex tri-blend T-shirts. Whether you're customizing T-shirts for a sports team, a business, a school club or a special event, we've got you covered.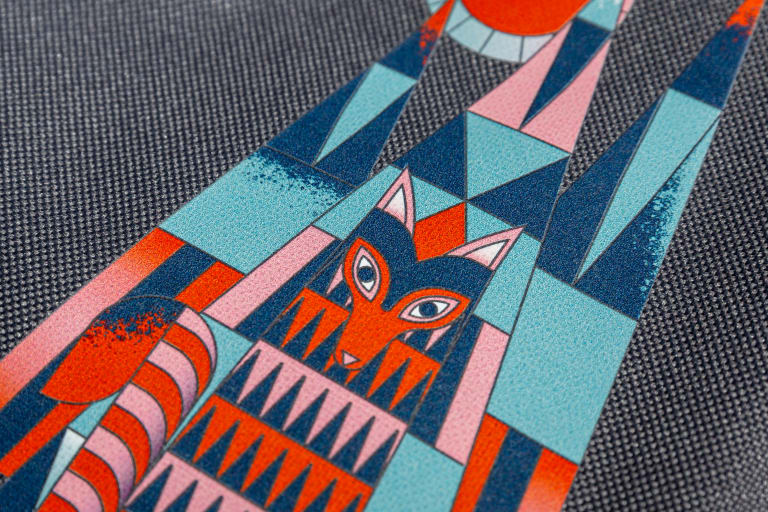 Direct to Film, or "DTF", has become a very popular print style for custom T-Shirts. Like Flex printing, it involves heat transfer to imprint the the design or text onto the garment, however DTF uses a powdered glue to fuse the design to the garment.
Like digital direct printing, DTF allows for multiple color prints as well as gradients and hues that would be impossible to print with screenprinting. This makes DTF a very useful print style for designs that require highly detailed coloring and for small and large orders alike. Most often, a DTF print will also look more vibrant and clean than a digital direct print.
Although DTF has many pros, one downside is that because of the glue used to fuse the image to the T-Shirt or Hoodie, the print area can feel stiff and not breathe well.
Regardless of its cons however, DTF has fast become one of the most desired print styles for modern printing.
Customizing T-shirts is a fun and easy way to make a statement and show off your style. By choosing the right print type and fabric, you can create a custom printed T-shirt that is both unique and durable. TeamShirts offers plenty of options to bring your custom print T-shirts to life. So go ahead and get creative - the possibilities are endless!

Excellent service and perfect…
Excellent service and perfect execution. The design tools available on the site worked perfectly for our needs. The products were delivered a day before we expected, and the quality is top notch. I would order from TeamShirts again.
Mel S

Quick and efficient and the team was…
Quick and efficient and the team was really helpful to get my logo just right on the shirts. The one issue was the colors were off for the different shirts we got, but they still look good.
Michael Hanks

Team shirt
Loved being able to design a customized football team shirt with my sons name and number on it! It arrived perfectly, fits perfectly, looks awesome and I'm so excited to wear it to his football games!
Ash

Intuitive quality
The website was very intuitive, and the responses to my questions by email were fast and respectful, and the shirts are far and above more quality than I expected.
Thomas C

Shirts were amazing
Shirts were amazing, arrived earlier than expected. Material of shirt was great.
Ana Alfaro
Excellent

4.5/5 based on 914 reviews